In February 2005, Jackson T Mkhabela was called as Stake President of the Soweto Stake and sustained at a Stake Conference held in the Pimville Stake Center.
All previous Stake Presidents in South Africa had been white, though there have been black Counselors. This is significant when you consider the country's racial diverse past, and the fact that President Mkhabela presides over many white Saints in this multiracial Stake. In the Apartheid days, the only white people you would see in Soweto were soldiers and police. White saints regularly attend meetings in Soweto as they did this last Sunday. This is not unique to the LDS Church but is reflection of how far South Africans have come as a people. Elder Scott of the Quorum of the 12 Apostles, and Elder Sitati, an Area Authority Seventy, extended the call.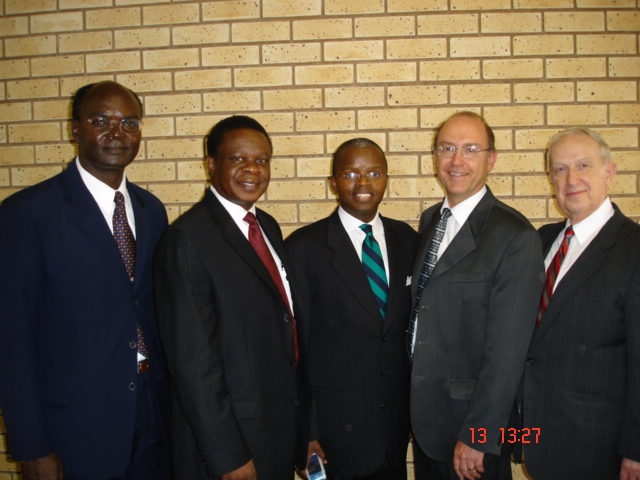 Left to right: Elder Joseph Sitati (Area Authority Seventy from Kenya), Pres Jackson T. Mkhabela, Pres. Mledshe (1st Councilor), Pres. Atkins (2nd Councilor), Elder Scott (Quorum of the Twelve)
His Biographical information in his own words is as follows:
Conversion
I was converted to the Church of Jesus Christ of LDS through the Missionary program. I met the missionaries in December 1992, I was coming back from work and the two young men so me unlocking the gate of my house to park the car and they approached me and asked if they could share the gospel with me and I agreed. They asked whether I was married and I confirmed that I was married to Dorah and we have one child a boy named Jackson Junior.
From that day the missionaries made appointments to further teach my wife and me the gospel and both of us agreed. Four months later we were baptized on the 28th March 1993.
Two weeks after my baptism I was called to teach the elders quorum class, that calling was a great source of my testimony as I learned during preparations the doctrines and ordinances of the gospel. I was ordained an elder in the same year and was called the following year (1994) to serve as a first counselor in the branch Presidency.
Callings
I served as a counselor in the branch presidency for about two years. I was then called as a High councilor in Roodepoort Stake in 1996. I served in this calling for about a year and was called as second counselor in the strake presidency in Roodepoort stake. Roodepoort Stake was reorganized in 1999 and I was called to serve as first counselor in Soweto South Africa stake. I served for about three years and was called to serve as Bishop in Soweto ward in September 2002 where I served until February 2005 when I was called as stake President in Soweto South Africa Stake.
My wife Dorah, served as Relief Society President, Primary teacher and Sunday school teacher.
Career
I started my career as a police official where I worked for 12 years and resigned from this service in 1995 as a senior officer holding a rank of Captain.
I joined a higher education institution where I was employed as a lecturer specializing in criminology. I am presently employed as Area Manager for Physical Facilities in the Church of Jesus Christ of LDS.
New Stake presidency Soweto South Africa Stake
My first counselor is Khumbulani Desmond Mdletshe who is CES area director; President Mdletshe served in the London England mission, has been branch president, high counselor and served in the stake presidency.
My second counselor is Neil Garnet Atkins who is a mechanical engineer by profession; he served in the past as branch president, high counselor and a bishop.
I have known the sweet joy of serving in the Kingdom of our heavenly father, wherein the rewards are greater than those aspired for by the world. I am looking forward to serving the Lord with all my heart, might and mind.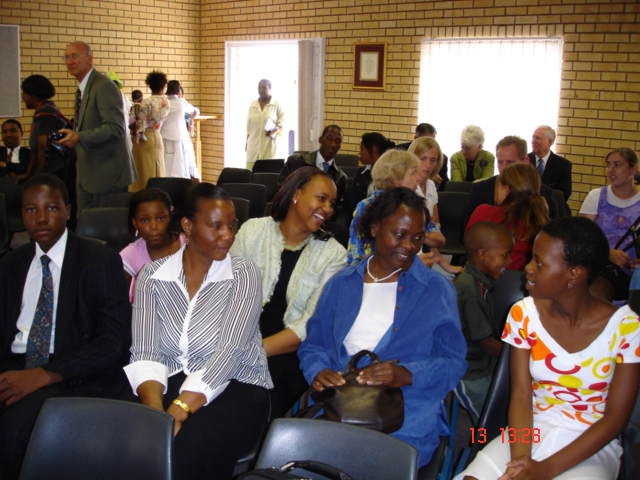 On front row left to right – Pres Mkhabelas's son Jackson Junior, Sister Mkhabela, Sister Sitati, daughter Thembisile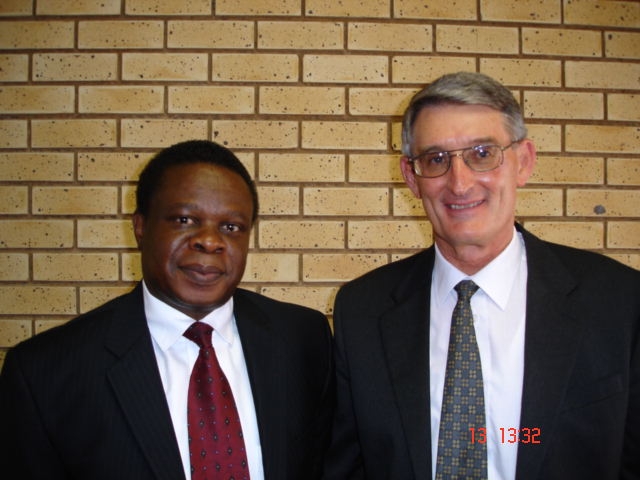 President Mkhabela and immediate past stake president Bob Eppel.