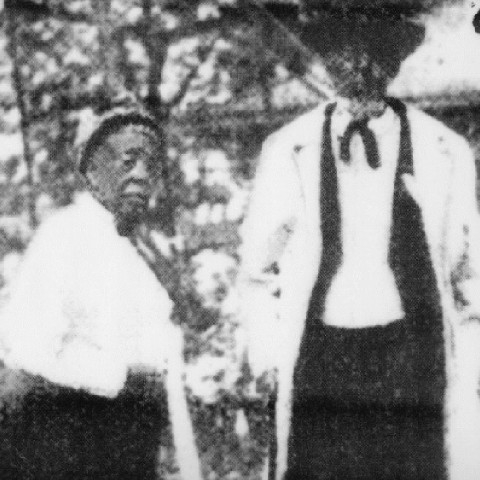 Jane Manning James was born in 1822 in Wilton, Connecticut. She converted to Mormonism in Connecticut and walked all the way to Nauvoo, Illinois. In Illinois she worked for the Joseph Smith family. She met Isaac James (from New
Jersey) while living in Nauvoo, and married him in Brigham Young's house a
few months after the martyrdom of Joseph and Hyrum Smith.
They arrived in Utah in 1848 as members of Brigham Young's household and as some of the first pioneers in the Utah valley. Eliza Lyman, wife of Amasa Lyman, tells the story about Sister James: April 8, 1849, we bake the last or flour today, and have no prospect of getting more till after harvest. April 13 Brother Lyman start on a mission to California… He left us without anything from which to make bread, it not being in his power to get it. Not long after Amasa had gone, Jane James, the colored woman, let me have 2 lbs. of flour, it being half of what she had.
The Deseret News writes the following about Jane Manning James on April 16, 1908: few persons were more noted for faith and faithfulness and was Jane Manning James, and so of the humble of the earth she numbered friends and acquaintances by the hundreds. Many persons will regret to learn that the kind and generous soul has passed from the earth. One of the speakers at her funeral was President Joseph F. Smith, the president of the LDS church.
Life History of Jane Elizabeth Manning James
As transcribed by Elizabeth J.D. Roundy
When a child only six years old, I left my home and went to live with a family of white people. Their names were Mr. and Mrs. Joseph Fitch. They were aged people and quite wealthy.  I was raised by their daughter.
When about fourteen years old, I joined the Presbyterian Church–yet I did not feel satisfied.  It seemed to me there was something more that I was looking for. I had belonged to the [Presbyterian] Church about eighteen months when an Elder of the Church of Jesus Christ of Latter‑day Saints, [who] was traveling through our country, preached there.  The pastor of the Presbyterian Church forbade me going to hear them as he had heard I had expressed a desire to hear them;  nevertheless I went on a Sunday and was fully convinced that it was the true gospel he presented and I must embrace it.  The following Sunday I was baptized and confirmed a member of the Church of Jesus Christ of Latter‑day Saints.
One year after I was baptized, I started for Nauvoo with my mother, Eliza Manning, my brothers Isaac Lewis, and Peter, my sisters, Sarah Stebbins and Angeline Manning, my brother-in-law Anthony Stebbins, Lucinda Manning (a sister-in-law), and myself in the fall of 1840 [sic]. We started from Wilton, Connecticut, and traveled by canal to Buffalo, New York. We were to go to Columbus, Ohio before our fares were to be collected, but they insisted on having the money at Buffalo and would not take us farther. So we left the boat and started on foot to travel a distance of over eight hundred miles.
We walked until our shoes were worn out, and our feet became sore and cracked open and bled until you could see the whole print of our feet with blood on the ground. We stopped and united in prayer to the Lord; we asked God the Eternal Father to heal our feet. Our prayers were answered and our feet were healed forthwith.
When we arrived at Peoria, Illinois, the authorities threatened to put us in jail to get our free papers. We didn't know at first what he meant, for we had never been slaves, but he concluded to let us go. So we traveled on until we came to a river, and as there was no bridge, we walked right into the stream. When we got to the middle, the water was up to our necks but we got safely across. Then it became so dark we could hardly see our hands before us, but we could see a light in the distance, so we went toward it. We found it was an old Log Cabin. Here we spent the night. The next day we walked for a considerable distance, and stayed that night in a forest out in the open air.
The frost fell on us so heavy, it was like a light fall of snow. We arose early and started on our way walking through that frost with our bare feet, until the sun rose and melted it away. But we went on our way rejoicing, singing hymns, and thanking God for his infinite goodness and mercy to us–in blessing us as he had, protecting us from all harm, answering our prayers, and healing our feet.
In course of time, we arrived at La Harpe, Illinois–-about thirty miles from Nauvoo. At La Harpe, we came to a place where there was a very sick child. We administered to it, and the child was healed. I found after [that] the elders had before this given it up, as they did not think it could live.
We had now arrived to our destined haven of rest: the beautiful Nauvoo! Here we went through all kinds of hardship, trial and rebuff, but we at last got to Brother Orson Spencer's. He directed us to the Prophet Joseph Smith's mansion. When we found it, Sister Emma was standing in the door, and she kindly said, "Come in, come in!"
Brother Joseph said to some white sisters that was present, "Sisters, I want you to occupy this room this evening with some brothers and sisters that have just arrived." Brother Joseph placed the chairs around the room and then he went and brought Sister Emma and Dr. Bernhisel and introduced them to us. Brother Joseph took a chair and sat down by me and said, "You have been the head of this little band, haven't you!" I answered, "Yes sir!" He then said, "God bless you! Now I would like you to relate your experience in your travels."
I related to them all I have above stated–and a great deal more minutely, as many incidents has passed from my memory since then. Brother Joseph slapped Dr. Bernhisel on the knee and said, "What do you think of that, Dr.? Isn't that faith?" The Dr. said, "Well I rather think it is. If it had have been me, I fear I should have backed out and returned to my home!" [Joseph Smith] then said, "God bless you. You are among friends now and you will be protected."
They sat and talked to us awhile, gave us words of encouragement and good counsel. We all stayed there [the mansion house] one week. By that time, all but myself had secured homes. Brother Joseph came in every morning to say good morning and [see] how we were. During our trip I had lost all my clothes–they were all gone. My trunks were sent by canal [boat] to the care of Charles Wesley Wandell. One large trunk full of clothes of all descriptions–mostly new!
On the morning that my folks all left to go to work, I looked at myself–clothed in the only two pieces I possessed–[and] I sat down and wept. Brother Joseph came into the room as usual, and said, "Good morning. Why–not crying, [are you]?" "Yes sir. The folks have all gone and got themselves homes and I have got none." He said, "Yes you have. You have a home right here, if you want it. You mustn't cry; we dry up all tears here." I said, "I have lost my trunk and all my clothes." He asked how I had lost them. I told him I put them in care of Charles Wesley Wandell and paid him for them and he has lost them. Brother Joseph said, "Don't cry. You shall have your trunk and clothes again." Brother Joseph went out and brought Sister Emma in and said, "Sister Emma, here is a girl that says she has no home. Haven't you a home for her?" "Why yes, if she wants one." He said, "She does." And then he left us. Sister Emma said, "What can you do?" I said, "I can wash, iron, cook, and do housework." "Well," she said, "when you are rested, you may do the washing, if you would just as soon do that." I said, "I am not tired." "Well," she said, "you may commence your work in the morning."
The next morning she brought the clothes down in the basement to wash.  Among the clothes, I found brother Joseph's Robes. I looked at them and wondered–[as] I had never seen any before–and I pondered over them and thought about them so earnestly that the spirit made manifest to me that they pertained to the new name that is given the saints that the world knows not of.
I had to pass through Mother Smith's room to get to mine, [and] she would often stop me and talk to me. She told me all Brother Joseph's troubles, and what he had suffered in publishing the Book of Mormon. One morning I met Brother Joseph coming out of his mother's room. He said, "Good morning!" and shook hands with me. I went to his mother's room. She said, "Good morning. Bring me that bundle from my bureau and sit down here." I did as she told me. She placed the bundle [in] my hands and said, "Handle this and then put it in the top drawer of my bureau and lock it up." After I had done it she said, "Sit down. Do you remember that I told you about the Urim and Thummim when I told you about the Book of Mormon? I answered yes ma'am. She then told me I had just handled it. "You are not permitted to see it, but you have been permitted to handle it. You will live long after I am dead and gone and you can tell the Latter-day Saints, that you was permitted to handle the Urim and Thummim."
Sister Emma asked me one day if I would like to be adopted to them as their child. I did not answer her. She said, "I will wait awhile and let you consider it." She waited two weeks before she asked me again. When she did, I told her, "No Ma'am," because I did not understand or know what it meant. They were always good and kind to me but I did not know my own mind; I did not comprehend.
Soon after, they broke up the mansion and I went to my mother. There was not much work because of the persecutions, and I saw Brother Joseph and asked him if I should go to Burlington and take my sister Angeline with me. He said, "Yes. Go and be good girls, and remember your profession of faith in the everlasting gospel, and the Lord will bless you." We went and stayed three weeks and then returned to Nauvoo. It was during this time that the prophet Joseph and his brother Hyrum was martyred. I shall never forget that time of agony and sorrow. I went to live in the family of Brother Brigham Young. I stayed there until he was ready to emigrate to this valley.
While I was at Brother Brigham's, I married Isaac James. When Brother Brigham left Nauvoo I went to live at Brother Cahoon's. In the spring of 1846 I left Nauvoo to come to this great and glorious valley. We traveled as far as Winter Quarters [and] there we stayed until spring. At Hog Creek, my son Silas was born. In the spring of 1847 we started again on our way to this valley. We arrived here on the 22nd day of September 1847 without any serious mishaps. The Lord's blessing was with us and protected us all the way. The only thing that did occur worth relating was when our cattle stampeded. Some of them we never did find. May 1848 my daughter Mary Ann was born. All of my children but two were born here in this valley. Their names are Silas, Sylvester, Mary Ann, Miriam, Ellen Madora, Jessie, Jerry, Boln, Isaac, [and] Violet. All of them are with their Heavenly Father except two: Sylvester and Ellen Madora.
My husband, Isaac James, worked for Brother Brigham, and we got along splendid accumulating horses, cows, oxen, sheep and chickens in abundance. I spun all the cloth for my family clothing for a year or two, and we were in a prosperous condition–until the grasshoppers and crickets came along carrying destruction wherever they went, laying our crops to the ground, stripping the trees of all their leaves and fruit, bringing poverty and desolation throughout this beautiful valley.  It was not then as it is now.  There were no trains running bringing fruits and vegetables from California or any other place.  All our importing and exporting was done by the slow process of ox teams.
Oh how I suffered of cold and hunger, and the keenest of all was to hear my little ones crying for bread, and I had none to give them; but in all, the Lord was with us and gave us grace and faith to stand at all.  I have seen Brother Brigham,  Brothers Taylor, Woodruff, and Snow rule this great work and pass on to their rewards, and now Brother Joseph F. Smith.  I hope the Lord will spare him, if this [is] his holy will, for many years to guide the Gospel ship to a harbor of safety.
I have lived right here in Salt Lake City for fifty-two years, and have had the privilege of going into the temple and being baptized for some of my dead.  I am now over eighty years old and am nearly blind, which is a great trial to me.  It is the greatest trial I have ever been called upon to bear, but I hope my eyesight will be spared to me–poor as it is–that I may be able to go to meeting, and to the temple to do more work for my dead.
I am a widow; my husband Isaac James died in November 1891.  I have seen my husband and all my children but two laid away in the silent tomb.  But the Lord protects me and takes good care of me in my helpless condition.   And I want to say right here that my faith in the gospel of Jesus Christ of Latter‑day Saints is as strong today–nay it is if possible stronger–than it was the day I was first baptized.  I pay my tithes and offerings, keep the Word of Wisdom.  I go to bed early and arise early.  I try in my feeble way to set a good example to all.  I have had eighteen grandchildren (eight of them are living),  also seven great grand children.  I live in my little home with my brother Isaac, who is good to me.  We are the last two of my mother's family.
This is just a concise but true sketch of my life and experience.
Yours in truth.
Jane Elizabeth James
Isaac Lewis Manning
He died on April 13, 1911 at the age of 96 years. Speakers at his funeral were President Joseph F. Smith, president of the LDS Church, Elder Anthony W. Ivins of the Council of the Twelve, and Bishop O.F. Hunter.
The obituary from the Deseret News dated April 17, 1911 says the following:
Isaac Lewis Manning, the colored clerk and servant of the Prophet Joseph Smith in Nauvoo, was born in Fairfield County, Connecticut, May 31, 1815. He was a trusted servant of the Prophet, and with his sister Jane lived for many years in the household Joseph Smith. When the Prophet and his brother Hyrum were martyred in Carthage Jail, Mr. Manning was a member of the party that accompanied the bodies to Nauvoo a help to dig the graves in which the Prophet and the patriarch were buried. When the Mormons were driven out of Illinois he did not come to Utah as did his sister in 1847, but settled in Missouri were he resided until 18 years ago (1893)…. on account of his prominence in the early history of the Church he was treated with a great deal of deference by all the Church officials and was respected and revered by all who knew him for his kind disposition and generous nature. He and his sister for years had special seats reserved for them in the tabernacle in the front in the center of the building. Jane made cushions for the seats, and the old couple and their friends have exclusive rights to the seats. Mr. Manning lived in the days of slavery, but was never in bondage. This fact always gave him great pleasure, and he claimed to be a regular New England Yankee.
Isaac Manning said he knew Brother Joseph was a man of God, and he would have laid down his life for the Prophet if he could've done so. He hoped to live so that he could meet the Prophet and be with him on the other side. Isaac Manning's wife died in 1891, in Ohio. He lived with his sister, Jane until her death.