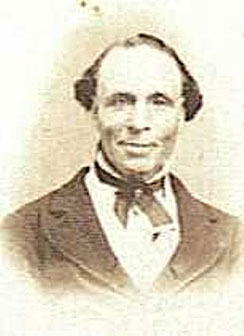 Elijah Able was born in Maryland and is believed to have used the underground railway to escape slavery by traveling to Canada. His parents were Delilah and Andrew Able. Elijah was baptized in September 1832 by Ezekiel Roberts. He was married to Mary Ann Adams.
In March 1836 he was ordained an Elder in The Church of Jesus Christ of Latter-day Saints. From the evidence we have we believe he was ordained by Joseph Smith. In December of the same year he is ordained a Seventy and becomes a "duly licensed minister of the Gospel" for missionary work in Ohio. He also serves missions in New York and Canada. The ordination was performed by Zebedee Coltrin.
In 1839 Elijah Abel is made a member of the Nauvoo Seventies Quorum. At the request of Joseph Smith, he works as a mortician in Nauvoo. In 1843 he served another mission for the Church.
In 1847 Elijah Abel arrives in Utah. A carpenter by trade, he works on building the Salt Lake Temple. He and his wife Mary Ann manage the Farnham Hotel. Mary Ann Abel was Negro according to the 1850 Hamilton County, Ohio, census and the 1860 Utah census.
In 1853 Elijah asked to receive his endowment and was denied by Brigham Young. In 1883 he is still on Church records as a Seventy. In 1884 Elijah was sent on another mission. He returned home and died in December of 1884.
On November 27, 1900, Enoch Abel, son of Elijah Abel, was ordained an Elder. Enoch's son, Elijah, was ordained a Priest on July 5, 1934, and an Elder on September 29, 1935.